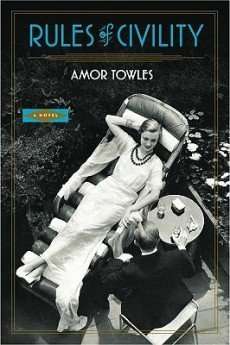 Reading Rules of Civility is like stepping into the world of a 1930s movie--one featuring high society, grand parties, and lots of martinis. In particular, it brings to mind The Thin Man (1934), starring William Powell and Mirna Loy, the screwball comedies of Frank Capra (1934-1941) and the musicals of Fred Astaire and Ginger Rogers (1933-1939). These were representative films of the Depression, when movies were an escape from the harsh realities that constituted the American scene.
In an article posted by the American Studies Department of the University of Virginia, the author writes:
Audiences gloried in spectacular fantasies of high society and easy living that they would never know...For an hour or two, one could pretend to be Katherine Hepburn or Cary Grant.
Another symptom of this fascination was the Society Papers. The lives and goings on of the rich and powerful in the city were considered news...Depression-era Americans were fascinated (not with celebrity, but with wealth).
Amor Towles captures the very essence of this sparkling world in his first novel. Katey Kontent and Evelyn Ross are "office girls" working in Manhattan. The year is 1937. Katey (born Katya) is the daughter of Russian immigrants; Eve is a child of wealth. Both women are ambitious and looking for excitement. They are about to get more than they bargained on when they meet Tinker Grey at a nightclub on New Year's Eve.
The story is told by Katey from the vantage point of late middle age. She and her husband are at an exhibition of Walker Evans photographs shot in the 1930s. She spots a photograph of Tinker taken in 1938, and then in 1939. In the former, he looks wealthy and world weary; in the later photo, he is haggard but seemingly younger and more content.
With this preface, we are introduced to Tinker and Eve, as well as to the high society of Wallace Wolcott, Dicky Vanderwhile and Anne Grandyn. As the reader follows the budding career of Katey Kontent from Wall Street office secretary to assistant editor of a literary magazine, one is mesmerized by the interplay of these characters. Each is three-dimensional, provocative and sympathetic.
Rules of Civility, whose title is taken from an early book by George Washington, is a period piece that is equal parts romance, mystery, and morality tale. It echoes some of our literary greats, such as F. Scott Fitzgerald, Ernest Hemingway and T.S. Eliot. Ultimately, the story of innocence lost in the wake of experience gained will resonate with all.
---