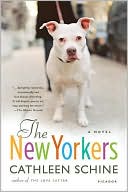 The New Yorkers, by Cathleen Schine, is a light and charming story about a group of single people in New York City's Upper West Side. It is an urban fable whose characters are linked by their loveable dogs. The cast includes Jody, a spunky music teacher who labels herself a spinster, takes up knitting, and worries her nights away. Believing she should own a cat (more in keeping with the spinster life), she none-the-less falls in love with an elderly pit-bull mix. Found by the ASPCA wandering the streets emaciated and covered with ticks, this gentle dog is adopted by Jody. She bestows her with the dignified name of Beatrice. Given Cathleen Schine's love of literary allusions, one wonders if she named the mutt after Dante's muse, Beatrice Portinari--the inspiration for his masterpiece, The Divine Comedy (1308-1321).
This novel abounds in funny characters. We have the handsome but stuffy, Everett. He is a 50-year-old chemist who falls, not for the 26-year-old Polly, with whom he is having an affair, but with her exuberant puppy, Howdy. While dog-sitting for Polly, Everett takes Howdy on walks through central park. He becomes a part of the dog-walking society around him and ceases to feel so alone.
It seemed almost incomprehensible to Everett. He had lived with this dog for five days. In five days, his life had come alive for him. His street was full of people, and his city was full of streets. His park, once nothing more than a grand exercise track, was now a landscape, a lawn, a garden, a thicket, a boulder, a swamp ( pp. 209-210).
Other colorful characters include George, Polly's brother; Simon, Jody's self-centered boyfriend, Jamie, owner of the Cheers-like restaurant where patrons and their dogs are welcome, and Doris, the woman who hates dogs and wants to bar them from public places. Part of the action involves Doris, with her orange skin and not-so-repressed anger, hatching schemes with the city councilman.
The New Yorkers would be especially liked by singles in their 20's or 30's, or by those seeking a book with wonderfully comedic passages. As always, Cathleen Schine's writing sparkles. You don't have to be a dog-lover to enjoy this book, but it helps.
---