A major batch of new releases before Flick Picks goes on a brief hiatus. We'll be back on March 24. In the meantime, a passel of new feature films, a couple of which figured in Academy Awards competition. And we must say, Oscar did alright this year: Best Original Script and Best Picture for Spotlight; Best director to Alejandro Gonzalez Inarritu (for The Revenant, coming this spring); Best Documentary Feature to Amy; Best Foreign Language Film to Son of Saul (also coming this spring).
Sorry, Sly. No Best Supporting Actor statuette for you. Mr. Stallone was perhaps the sentimental favorite (and even the betting favorite after winning in the same category at the Golden Globe Awards) at the Academy Awards. But this latest entry in the never-ending Rocky franchise has gotten good grades all around. Stallone wisely (late wisdom is better than none at all, perhaps) stays out of the ring, come fight time, yielding the canvas to the son of his old friend and rival, Apollo Creed (Michael B. Jordan as Adonis "Donnie" Johnson Creed). Up-and-coming director Ryan Coogler (Fruitvale Station) directed.
If you've been following the career of Brie Larson in films like The Spectacular Now and Short Term 12, her strong work in Room should come as no surprise. Ms. Larson collected an Oscar for Best Actress as a young mother held hostage for years with her son. The premise of Room is quite dark, but the film concerns itself even more with the aftermath of that captivity as it does with the grim particulars of the seven years when Joy Newsome and her son are held hostage. Joan Allen, always a welcome presence, plays Larson's mother, trying to help her adapt to a normal existence.
It's Christmas in March! Or Christmas Eve! Well, comedy is always in season, right? Three old pals who have long convened on Christmas Eve for a night of debauchery realize it's almost time to put away childish things. But first, they go in search of the mother of all Christmas parties. Seth Rogen, Joseph Gordon-Levitt and Anthony Mackie play the buddies looking to end their youth with a bang.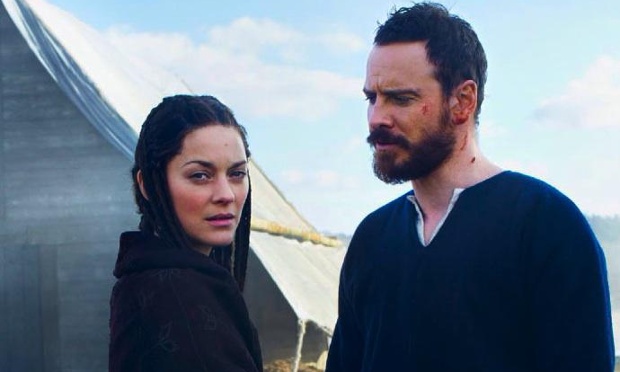 The always magnetic Michael Fassbender has won raves for his portrayal of the troubled Thane of Cawdor, in this latest film adaption of Shakespeare's "Scottish Play." Marion Cotillard plays, shall we say, Macbeth's rather encouraging wife.
Also new: LIFE is based on the relationship Life Magazine photographer Dennis Stock and James Dean. Also based on a true story, WOODLAWN gives us the inspirational tale of a high school football team that enjoys a spiritual awakening in troubled Birmingham, Alabama of the 1960's. The latest comedy from Jared Hess (Napoleon Dynamite, Nacho Libre) offers hijiinks in the Holy Land in DON VERDEAN. VICTOR FRANKENSTEIN is the latest film adaption of Mary Shelley's rather famous novel. MISS YOU ALREADY chronicles the travails of two long-time friends, played by Toni Collette and Drew Barrymore. IN THE HEART OF THE SEA is based on Nathaniel Philbrick's non-fiction book of the same title about the sinking of the whaling ship Essex in 1820, which inspired another novel of which you might have heard, Moby Dick.
Tamsin Grieg (Black Books, Episodes) plays an investigator who must decide if she wants to take up the case of a missing child which she had had to drop five years previous in The Guilty.

The third season of this FX series created and produced by former CIA officer Joe Weisberg has arrived. Keri Russell and Matthew Rhys play two KGB officers posing as an American couple during the Cold War of the 1980's.
This highly-regarded BBC crime series set and filmed in Northern Ireland stars Gillian Anderson as a police superintendent whose main task is building a case against a suspected serial killer.
This BBC series has us in dear old Blighty, but in the ninth century AD. Based upon the The Saxon Stories by Bernard Cornwell, The Last Kingdom is set at a time when what we think of England was actually composed of several separate kingdoms. The series main character, Uhtred (Alexander Dreymon) is pulled between the Danes who reared him and the kingdom that shares his Saxon ancestry.
Foreign Film
Iranian filmmaker Jafar Panahi has responded to his 20-year ban on making films by...continuing to make films. His previous two efforts - This Is Not A Film and Closed Curtain were made indoors and in relative secrecy. But for Taxi, the amiable and irrepressible Panahi takes to the streets of Tehran as Iranians from a variety of backgrounds confide in the amateur driver. As Anthony Lane said in the New Yorker, "Panahi's status as a martyr for his art could have gulled him into loftiness and pride; and yet, by some miracle, Taxi stays as modest as his smile, the point being not to recruit us to his cause but to put us on the side of his compatriots."
db
---