Appropriate to a "leap" February, bulging with an extra day, we begin the month with a DVD roundup that offers dispatches from all corners of the world and the human spirit. And good, distracting t.v. series and films - we have those too.
The Wikipedia page for Everest describes it as a "biographical adventure-climate disaster survival thriller drama." Ho-hum: just another entry in the old biographical-adventure-climate-survival-thriller-drama-genre. Or very possibly, the first. More clear is that Everest, based on real events, bulges with action and dizzying cinemtography as much as it teems with an excellent cast that includes Josh Brolin, Robin Wright, Keira Knightly and Jake Gyllenhaal.
Based on the graphic novel by Phoebe Gloeckner, Diary of a Teenage Girl is a frank, poignant and funny account of its heroine's coming of age, including a rather unconventional sexual awakening. Maybe too frank for some, Diary of a Teenage Girl features a great performance by British newcomer Bel Powley as the story's heroine, Minnie Goetze.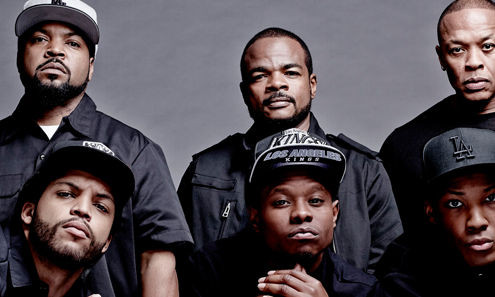 One of the major film successes of 2015 both critically and financially (it became the highest-grossing music biopic of all time), Straight Outta Compton is the story of legendary hip hop group N.W.A.
Also new: Spike Lee's latest, CHI-RAQ addresses violence in Chicago in a way that only Spike Lee can. Bradley Cooper plays a troubled chef in BURNT. Another coming-of-age story arrives, this time from Britain. Asa Butterfield stars as a math prodigy who finds people much more mystifying than the most complex of equations in A BRILLIANT YOUNG MIND.
Okay, Downton Abbey fans, this is it. Even as it plays out on PBS, the sixth and final season of the enormously popular series has arrived in its entirety on DVD. Will Lady Mary find love again? For heaven's sake, will poor Lady Edith find a mate of her own who doesn't summarily get killed off? Peace at last for Mr. and Mrs. Bates? Reserve a copy today and find out.
If you aren't familiar with the USA series Mr. Robot, it's high time you caught up. Such was the quality of the filmed episodes that the second season was approved before any of the first season made it to the airwaves. Rami Malek stars as a somewhat troubled cybersecurity engineer recruited to join a group of hacktivists. Dark, smart and quickly addictive, Mr. Robot is joining the ranks of the best series of the past decade.
FJALLBACKA MURDERS, SET ONE and TWO
Based on the books by Camilla Lackberg, the Fjallbacka Murders is Swedish series whose main character moves to her hometown, which turns out to be more then the simple, picturesque village it appears to be a first glance. Each set of Fjallbacka Murders sets consists of three 90-minute films.
Also new: AGATHA CHRISTIE'S PARTNERS IN CRIME, HANNIBAL SEASON THREE, GIRLFRIENDS' GUIDE TO DIVORCE SEASON ONE, THE DOCTOR BLAKE MYSTERIES SEASON TWO.
Taiwanese master Hou Hsiao-Hsien won the Best Director award at the 2015 Cannes Film Festival for this beautifully-realized martial arts film.
Directed by siblings Geeta and Ravi Patel, Meet the Patels has been a crowd favorite at film festivals. The documentary deals the expectations and impatience of Geeta and Ravi's parents at their slow progress to marriage. The parents, first-generation immigrants, are the product of an arranged marriage.
A BRAVE HEART: THE LIZZIE VELASQUEZ STORY
"A Brave Heart," chronicles the life and experiences of Elizabeth "Lizzie" Velasquez, from getting bullied in school and later online, to her multi-million-viewed TED talk, her work as a motivational speaker and as a lobbyist for the first federal anti-bullying bill.
Also new: Meanwhile, at the other end of the human spectrum...THE BRIGHT ONE makes use of previously unavailable letters, photos and diaries to examine the life and mind of the architect of the Nazi's "Final Solution," Heinrich Himmler.
db
---